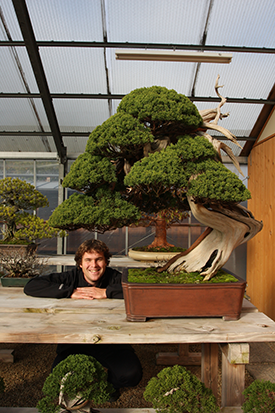 We are moving to our new address in Boskoop:
Omloop 4
2771 NL  Boskoop
We cordially invite you to come and take a look behind the scenes of our new location in the making on 21 and 22 May! The more than 7000 newly imported trees from Japan and Korea are already in the new bonsai garden and the handmade bonsai pots, mainly from Tokoname, in our new showroom. In the meantime, we are still working on the finishing touches and a beautiful Japanese show garden, which will be finished next autumn.
Bonsai Plaza specializes in bonsai, bonsai tools, bonsai books, bonsai trays and related items.
In addition, we import for you special bonsai trees and garden, on request, from Japan and other countries.
During his years of study in Japan, Maarten van der Hoeven came into contact with bonsai. It was his hobby and passion.
In addition to his studies, in the free time and weekends, he taught at several Japanese masters the secrets of bonsai.
After his return to the Netherlands he wanted to share all of this with the many bonsai enthusiasts in Europe.
In 1998 he started Bonsai Plaza, with the aim to contribute. Bonsai from wider He now provides for Bonsai Plaza many in Europe of the finest bonsai and the best tools, the best books and special bonsai bowls. Additionally Bonsai Plaza provides its products in bulk to retailers.
Due to its specialization and its wide network in Japan, he is able to stand out from the average bonsai trade, both in price and in quality and exclusivity! If you want a specific type, size or form a separate, exclusive bonsai, he seeks it for you during his annual trips to Japan. He loves to share his knowledge with everyone bonsai. He does this mostly through lectures and workshops throughout Europe.
By his knowledge of the Japanese language, he is often asked as a translator at workshops of Japanese masters throughout Europe.
Bonsai Plaza itself import any products from Japan. Martin has traveled twice a year to Japan to personally provide the best products and bonsai and bonsai garden to find out. Have attended lectures and workshops are often organized in collaboration with associations, clubs or dealers.
And many bonsai exhibition you can not miss. Prior Bonsai Plaza