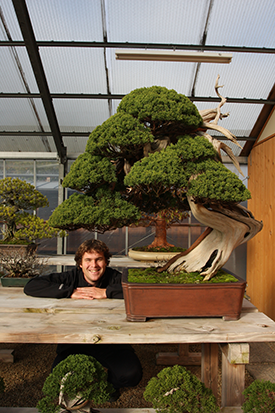 Welcome to Bonsai Plaza - Your Destination for Outdoor Bonsai
At Bonsai Plaza we have a deep passion for outdoor bonsai and are dedicated to sharing the beauty and enchantment of this ancient Japanese art form. Our team, consisting of passionate bonsai lovers, welcomes you to our world of natural beauty and timeless tradition.
Discover our high-quality bonsai trees
Step into a world where art and nature come together. At Bonsai Plaza, we go beyond just offering bonsai trees and accessories. We take you on an inspiring journey to understand, appreciate and embrace the art of bonsai. With our carefully selected collection of high-quality bonsai trees, from delicate Mame and Shohin to majestic Kifu Sho and  Dai, we strive to stimulate your imagination and transform your garden into an oasis of peace and harmony.
Passion for Authenticity
At Bonsai Plaza we believe in the power of authenticity. Every bonsai in our collection is carefully and hand-chosen by Maarten personally and is cared for with love. We work with renowned growers and artisans in Japan to bring you the most authentic bonsai experience. Our trees are living works of art, steeped in history and symbolism. To match the highest quality trees, we also bring you a unique selection  of handmade Japanese bonsai pots of indisputable quality and mastery. When you buy a bonsai or bonsai pot from Bonsai Plaza, you can be sure that you have a unique piece of Japanese culture and tradition in your hands.
Together on the Journey
At Bonsai Plaza we believe in creating a community of bonsai lovers. We are not only here to offer you high-quality products, but also to share knowledge and inspiration. Through our blog and bonsai care guide, you can dive deeper into the bonsai world,  learn about techniques, discover grooming tips, and get inspired by stories from passionate bonsai artists around the world.
Contact us - we are happy to assist you.
Do you have a question, need help or just want to share your experience? We, Maarten and Jacqueline, are here to help. Please contact us by phone or email and we will respond as soon as we can to ensure that your queries are resolved efficiently.
Thank you for choosing Bonsai Plaza. We are honored to be part of your bonsai journey and we can't wait to exceed your expectations.
Best regards
Maarten and Jacqueline