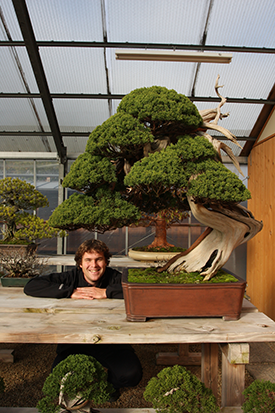 Slowly but surely, our dream is becoming more and more reality: a life in which hobby and work are intertwined one on one, a place where everyone can fully experience their passion and talent, and a small but incredibly nice team of which we can honestly say that everyone in it does what he/she likes and what he/she is awfully good at. And not to forget: every day being able to surprise other bonsai enthusiasts with a unique range of individually selected trees and bonsai pots that makes us very happy ourselves.
The web store and physical store of Bonsai Plaza
Every week more of the approximately 15,000 trees, pots, tools, care products, books, suiseki and other items that we have in stock, can be found in our web shop. In addition to visiting the web shop, you are also very welcome to visit us in our new nursery. Unless we have a fair, the nursery is open for a visit from Monday to Thursday between 9 and 5. Want to make sure we're there? Please call +31(0)648772342 to make an appointment. The prices on our products are also stated on our products in the physical store, so that you can shop comfortably and confidently.
From classic to modern and from miniature bonsai that fits in the palm of your hand to the larger masterpieces of over a hundred years old, Bonsai Plaza delivers Japanese bonsai culture to both private and professional bonsai enthusiasts worldwide. As a bonsai gallery and shop, we also have a variety of useful tools and essentials for all seasons. We would like to welcome you to our web shop and nursery.
Who is Bonsai Plaza?
Until a few years ago Maarten was Bonsai Plaza, but that is no longer the case in itself. We now have a small, but perfect team of enthusiastic people who each take on their own part of the work.
Maarten van der Hoeven: As a young teenager, Maarten came into contact with bonsai. It soon became his hobby and passion. During his studies in Japan he learned the secrets of bonsai from various Japanese bonsai masters. After returning to the Netherlands, he was eager to share all this with the many bonsai enthusiasts in Europe. In 1998 he founded Bonsai Plaza. From the initial purchase of bonsai to customer order in Japan, Bonsai Plaza has steadily grown into one of the larger suppliers in Europe of unique Japanese and Korean bonsai and bonsai pots for both the private and professional trade.
Bob van Ruitenbeek: About 18 years ago Bob started his bonsai hobby. Like Maarten, he was during his time in Japan apprenticed to the well-known Japanese bonsai master Nobuichi Urushibata. Back in the Netherlands, his passion for the Japanese bonsai tradition continued to grow and he soon became chairman of Bonsai Association Midden Nederland and later the Dutch Bonsai Association. In 2017 he took the plunge, quitting his job as manager of "his" garden center, and joined Maarten to take care of all bonsai and garden trees with great passion and to help customers with their bonsai related questions.
Jacqueline de Putter: After having admired Bonsai Plaza from a distance for 18 years, in 2019 Jacqueline exchanged her dress shoes for shoes with steel toes and turned up to make the huge collection of trees and bonsai pots accessible to a wider audience via the web shop. We are proud that via this digital route we can make customers from all Member States of Europe happy with more than 15,000 new unique trees, bonsai pots and other bonsai supplies.
Carin Fonk: After graduating in Chinese language and literature, in which she studied for 5 years, Carin searched for a varied job with an Asian twist. After having grasped all facets of Bonsai Plaza as an all-round employee, twice a week, she packs all parcels with great love and pleasure. On top, she excels at photographing all the trees that you can find in our web shop.
Ron Hermeling: Years ago, Ron sold his fish shop to just do the things he loves. As a team, we are incredibly happy that he helps us maintain and improve the trees in the nursery as a freelancer.
Gerwin van der Stap: Gerwin grew up between bonsai and koi, got a taste of e-commerce during his studies and dreams of starting his own business. At Bonsai Plaza he helps to take care of the trees every week and he now is the fastest team member in getting new trees and bonsai pots online.
Nikki Linden: Girl next door Nikki probably didn't know what she was getting into when she did her first life-saving job for Bonsai Plaza last June: collecting visas for another purchasing trip while the team was still at a bonsai show abroad. She now is a permanent employee in our team and amazingly good at photographing bonsai pots.
Marcel: Modest, passionate, knowledgeable and persistent. In addition to a full-time job elsewhere, Marcel Bonsai Plaza helps as a volunteer to maintain all garden trees. Although he likes to stay in the background, he is an indispensable part of our team.